In this blog I will tell you about the travel route(s) we have mapped out for West America, what we have seen and done along the way (the Highlights of the West) and of course also about all practical matters and our own tips and experiences. This can be helpful if you want to make a similar tour yourself in the West of the United States of America. Will you travel with us?
---
This article is part of a large one-year tour the United States en Canada, with a Dutch 4×4 camper that we shipped ourselves… It is a bucket list worthy and an once in a lifetime experience that will never be forgotten.
We wrote almost 100 articles about this ultimate tour. Visit our North America page for more information.
---
The Highlights of West America
There is so much to tell about the following parks and destinations! That is why in this blog I try to give you a short summary with some photos to paint a general picture. In addition, I provide references to the more extensive blogs about the destinations. Click so especially on the left back read more for more information about the park or destination. Note: not everything has been written separately, it is still a work in progress!
1 San Francisco
The city of San Francisco is located on the Pacific Ocean (location here), is California's fourth largest city and is largely located on a peninsula. The city has almost 900.000 inhabitants and the agglomeration more than 7 million. The agglomeration consists of San Francisco together with San Jose, Oakland en Berkeley.
San Francisco is known for its fog banks and steep slopes. The city attracts many tourists and the most famous tourist attractions are the Golden Gate Bridge, Alcatraz and the of course the funiculars.
UNDER CONSTRUCTION ⚠️ Read more: San Francisco, California | Roadtrip United States (…)
2.Yosemite National Park
The environment (location here) is so impressively beautiful that you sometimes doubt whether it is real. Mega high rocks, from which the water falls into a green valley. I remember getting a good sense of how grand the rock walls really are six years ago, when hundreds of twinkling lights could be seen on them one night. These were all climbers who would spend the night against the wall.
Yosemite National Park covers an area of ​​more than 3000 km². The landscape has been shaped by the interaction between glaciers and the older underlying rock. A long history of tectonic plates, volcanic activity, levies, erosion and ice ages. It is difficult to summarize how that works geologically, but the result is breathtaking.
People come to the park to hike, bike, climb, camp, stay in the lodges, spot wildlife and stargaze. The most recognizable point of Yosemite is the Half dome, a granite dome. It may seem like there was once another half, but it isn't.
Lees meer: Tips for Yosemite Valley National Park | Roadtrip USA (56)
3. Sequoia national park
In Sequoia national park you will find the trees of the same name, the largest trees in the world in terms of volume. These are located on a mountainous landscape with deep ravines. It Kings Canyon National Park is next to Sequoia and these are often also mentioned together. Also, the two parks share several entrances and exits.
The largest and most famous tree in Sequoia is the General Sherman Tree. This is the largest boom in the world in terms of content/volume. It is 83 meters high and has a diameter of 11 meters at the ground. There is an easy walking trail in the park, less than a kilometer long, that takes you to the Genral Sherman. Around it are many other giant Sequoias.
Lees meer: Tips for Sequoia National Park | Roadtrip USA (59)
4.Death Valley National Park
The pioneers who used to end up in the area were convinced that they would die here, hence the name. The park (location here) is the hottest, driest, and lowest-lying area in the United States. An area of ​​extreme extremes. In the summer, Death Valley, along with some other desert areas, is in Africa and the Middle East, the hottest place in the world.
The park has many faces. Sand dunes, salt flats, high altitudes, rocks of different colors and ancient settlements. Most tourists drive around, go to the sights and at most take short walks (because of the heat), such as in the sand dunes and on the salt flats. The park can be visited in the summer months, but it is important that you are well prepared. Temperatures of 50 °C are no exception during that period!
Lees meer: Tips for Death Valley National Park | Roadtrip USA (58)
5 Las Vegas
Las Vegas is located in the Mojave desert in the south of the state Nevada (Location here) and is of course best known as a gambling paradise. The streets of the city center are dazzlingly lit by the extravagant hotels and casinos.
Most tourists come here to gamble and party. On the Las Vegas Strip it is crowded with decked-out revelers any time of the year and every day. There is also something to see or do in every place. How about the kitschy Caesar's Palace? Into the fake Parisian streets and Eiffel Tower Paris las vegas? The fountain show of the Bellagio every 15 minutes? Or boy, go on a roller coaster!
Did you know: The Hotel/Casino Circus Circus have an RV park? So you can stay on the Las Vegas Strip with your camper. On average you pay 70 USD for such a camper place.

6 years ago this was still 23 dollars, but that aside…
6. Zion National Park
Zion (location here) is characterized by its red-colored sandstone cliffs. The Zion Canyon is 24 kilometers long and 800 meters deep and was created by the Virgin river. Due to its geographical location, rare plants grow and there is a great diversity of animals.
Tourists mainly come here for hiking. Most famous walks are through the shallow waters of the Zion Narrows en Angel's Landing, an exciting walk on narrow paths with steep precipices. The latter cannot be walked without a permit and is not suitable for people with a fear of heights!
UNDER CONSTRUCTION ⚠️ Read more: Zion National Park | Roadtrip United States (…)
7.Bryce Canyon National Park
Although Bryce (location here) also consists of red rocks, it is nevertheless an exceptional environment because of its so-called Hoodies, or sandstone rock formations in the form of pillars. They exist on every continent on Earth, but nowhere are there so many together as here. The pillars are created by freezing and thawing in combination with wind and rain.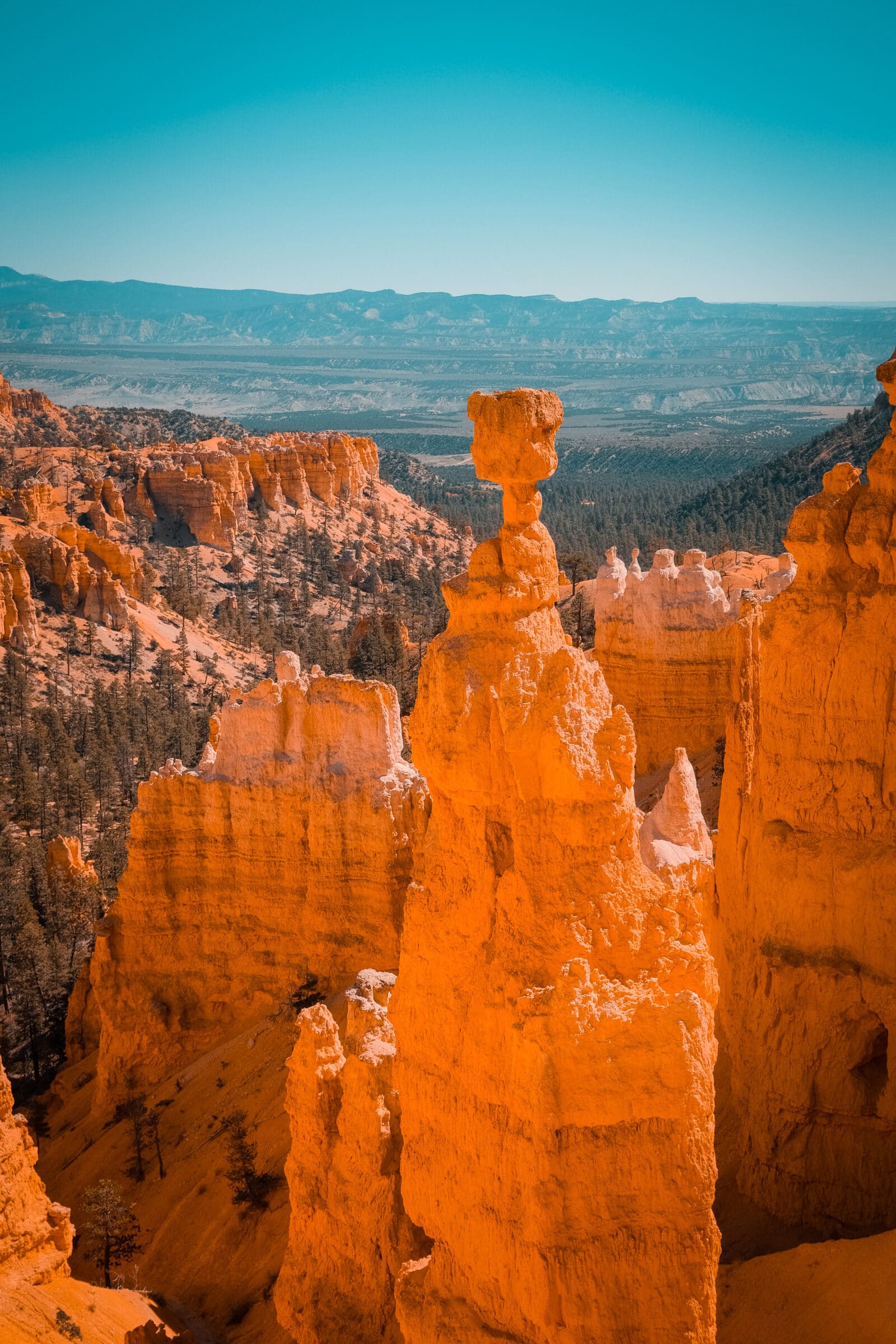 The park is not large compared to other national parks. The Navajo Loop en wall street are the most famous places in the park for walking. One or two hours is enough for you. Keep in mind that what you go down also, logically, must go up again. You can also camp in the park, view wildlife, cycle and very good stargazing.
UNDER CONSTRUCTION ⚠️ Read more: Bryce National Park | Roadtrip United States (…)
Tip: When you enter a national park, you will be given a map and current information or you can ask for it. You can immediately orientate yourself on the possibilities in the park, find the right way, see where the facilities are located and more.

Don't forget to visit the Visitor Center, where you can learn a lot about the park. Almost every park has a cinema with a short film about the park and its origin.
8. Page, Antelope Canyon & Horseshoe Bend
Page is a town in northern Arizona near the Utah border (location here). It's at glen canyon and the Powell more and is known as a base for Horseshoe bend en Antelope Canyon.
Horseshoe Bend is a meander in the shape of a horseshoe, as the name might suggest. Although a few years ago you could walk to it from a small parking lot through the sand, there is now a spacious parking lot, a tarmac walking path and an entrance fee is charged. Admission is USD 10 per vehicle with occupants.
You cannot visit Antelope Canyon on your own. You will have to do that with a tour, because only the tour operators have a permit to enter the canyon. The operators are in the hands of the Navajo Indians. On average, such a tour costs 110 USD. There are similar canyons in the area, where you pay less for a tour.
UNDER CONSTRUCTION ⚠️ Read more: Page Arizona | Roadtrip United States (…)
9. Monument Valley
Located in Monument Valley on the border of the states of Arizona and Utah (location here). It's on the Colorado Plateau, a high-altitude desert. Apparently the area is flat with very high and large rock formations of sand and siltstone. This makes you imagine yourself in the Wild West from the western movies.
Monument Valley is not a national park, but a Navajo Tribal Parkin the hands of the Navajo Indians. Tourists drive around, visit the various viewpoints or take a horseback ride. Many tours are also offered by the local Indians.
UNDER CONSTRUCTION ⚠️ Read more: Monument Valley Arizona | Roadtrip United States (…)
10.Grand Canyon National Park
Last but CERTAINLY not least, the Grand Canyon (location here). Simply put, it is a very wide and deep gorge in northern Arizona, created by, among other things, the colorado river. The gorge is 435 kilometers long and has a width between 15 and 29 kilometers. It will probably not surprise you, but the gorge is clearly visible from space, it is that huge.
You can read a less simple explanation in the blog below. In any case, what I can tell you is that the rock in the canyon shows you the history of the earth as far back as 2 billion years.
Tourists visit the viewpoints and take walks. A hike to the canyon floor, where the Colorado River flows, is only possible with a permit. You will have to prepare well for this and you will have to be in good condition, because of the great depth and the enormous heat. You cannot do this walk in one day. Not for beginners so…
The area is also a great place to view the starry sky or take a helicopter flight. We have also experienced the latter and I will tell you more about it below under 'Special experiences'.
UNDER CONSTRUCTION ⚠️ Read more: Grand Canyon National Park | Roadtrip United States (…)
---
Plan your vacation to America here
---
Possible routes for Highlights of the West
You can drive and experience the 'highlights of the west' in different ways. One itinerary is no better than another. It mainly depends on how much time you have and in what season you travel. Below I share three possible routes with you, two of which we have already done ourselves!
Tip:: All the following travel routes and options can also be driven perfectly the other way around. Depending on the season, you can decide which way to drive. Are you going in the spring? For example, start in Los Angeles (warmer weather) and end in San Francisco (colder weather). In the fall you will of course turn that around again.
1. Itinerary 5 to 6 weeks
Below you will find the most extensive itinerary for the Highlight of the West, perfect for a travel duration of 5 to 6 weeks.
Tip:: Click on the square at the top right for full-screen.
Option 1 | 4000 kilometers / 2500 miles: Those who have 5 weeks can start in San Francisco and then drive east to Yosemite, Sequoia, Death Valley, Las Vegas and from there make a tour of Zion, Bryce, Page, Antelope Canyon, Horseshoe Bend and Monument Valley and then back again to return in Las Vegas (end of trip).
In 5 weeks you have plenty of time to view everything calmly and to make long, long walks. You usually stay about 2 nights at one campsite.
Option 2 | 5500 kilometers / 3400 miles: A slightly busier program but also doable in 5 weeks, is the tour of option 1 above + Joshua Tree National Park and Los Angeles. You can start in Los Angeles and return your RV in San Francisco, or vice versa. Those traveling fast can choose to add Glen Canyon and Capitol Reef National Park to this trip.
Remark: We (Chris and Malou van Wereldreizigers.nl) drove more or less this route 6 years ago, starting in Los Angeles and ending in San Francisco.
Option 3 | 6500 kilometers / 4000 miles: The most comprehensive Highlights of the West itinerary, including much of California's stunning Highway 1 coastal road. Recommended travel time for this route is 6 weeks.

You combine option 1 and 2 on this itinerary and add a part of the west coast of America, with the highlight 'Big Sur'. Those traveling fast can choose to add Glen Canyon and Capitol Reef National Park to this trip.
2. Itinerary 3 to 4 weeks
Option 1 | 3500 kilometers / 2200 miles: If you have 3 weeks, you can start in San Francisco and then drive east to Yosemite. Skip Sequoia (lots of extra miles) and go straight through the Tioga Pass to Death Valley. After Death Valley you drive to Las Vegas and from there you can make a tour of Zion, Bryce, Page, Antelope Canyon, Horseshoe Bend and Monument Valley before returning to Las Vegas (end of trip)
In 3 weeks this is quite a drive and you will not have a lot of time for walking or staying somewhere for several days. At most campsites you will only stay 1 night.
Option 2 | 4000 kilometers / 2500 miles: In 4 weeks you have plenty of time to look at everything from option 1 in peace and to take long, long walks. You can optionally add Sequoia National Park, which is quite out of the way, to the trip. Joshua Tree National Park, Glenn Canyon and Capitol Reef National park can also be added for fast travelers.
With a travel duration of 4 weeks, you usually stay about 1 to 2 nights at one campsite without the extra destinations.
Remark: We (Chris and Malou van Wereldreizigers.nl) have more or less driven this route in 2022.
3. Itinerary 2 weeks
Option 1 | 2000 kilometers / 1250 miles: A short round for 2 weeks. Start in Las Vegas, circle Zion, Bryce, Page, Antelope Canyon, Horseshoe Bend and Monument Valley before returning to Las Vegas (end of trip). You will unfortunately have to skip Yosemite and Sequoia parks. Death Valley can optionally be added.
Option 2 | 3000 kilometers / 1900 miles: If you have 2 weeks, you can start in San Francisco and then drive east to Yosemite. Skip Sequoia (lots of miles) and go straight through the Tioga Pass to Death Valley. After Death Valley you drive to Las Vegas and from there you can make a tour of Zion, Bryce, Page, Antelope Canyon, Horseshoe Bend and Monument Valley before returning to Las Vegas (end of trip).
In 2 weeks you will not have time to take long walks, but drive through everything at a high pace. You usually only stay one night at a campsite. This option is only suitable for people who are used to driving a lot and for a long time.
Tip:: All of the above itineraries and options can also be driven perfectly the other way around. Depending on the season, you can decide which way to drive. Are you going in the spring? For example, start in Los Angeles (warmer weather) and end in San Francisco (colder weather). In the fall you will of course turn that around again.
Our route in 2022 – 3 weeks
While our roadtrip through America we usually take our time and see how the wind blows, but for family we like to make an exception! With little effort I managed to convince my parents and lure them across the big puddle. In this way they could see their beloved daughter and son-in-law again after six months. But above all, this was the way to make priceless and lifelong memories together!
We chose to ride the Highlights of the West together in three weeks. It was a route of approximately 4000 kilometers (2500 miles) through four states: Californië, Nevada, Arizona en Utah in about 3 weeks.
Tip: If you put together a trip yourself using this route, think about what your wishes are and adjust the trip accordingly. For example, it would be nice if you take enough time for a long walk and then some rest, if that's what you want.

Also keep in mind that your arrival and final destination may differ. Six years ago we had more time for roughly the same route. Then we arrived at Los Angeles and we spent some time here.
Californië
My parents arrived at the major airport of San Francisco. There they stayed one night in a hotel and the next day they picked up their camper from Cruise America. From there they drove east. Near Don Pedro Lake we met them at a campsite.
We drove to – and visited . in two hours Yosemite National Park. We stayed for two nights at a campsite in the park called Wawona Campground. The day we arrived we drove through the park and the day after, we took some time for some walks.
After this we made a drive of about four hours to Sequoia national park to come. We drove through the park, admired the giant trees and stayed at a campsite outside the park, near the tourist town Three rivers.
From Three Rivers we took a very long drive to Death Valley. We would stay there for two nights Furnace Creek Resort & Campground. This may have been the plan, but things turned out differently so we only stayed one night (more about this in our experiences). After some rest at the campsite with swimming pool, we drove around the area, while temperatures rose to 40 degrees °C.
Note: The travel time that I sometimes mention is how long it took us with our 4×4 camper, which can't always handle the maximum speed. So you can assume that you will not just take it any longer.
Nevada
From Death Valley it was a three hour drive to Las Vegas, where we had a hotel stay for a change. This way we could spend an evening looking at the bizarre city and the dressed-up people and, in the meantime, take a small gamble.
Utah
The next day we made a beautiful drive of about four hours out of the city, to Zion National Park. The scenery changed every hour! Just outside the park we stayed at a campsite for two nights. This is how we saw the park on arrival, we could enjoy a great walk the next day and our well-deserved rest.
After our visit to Zion, Bryce National Park a logical next destination. The distance between these two parks is approximately 1,5 hours drive. We went early so we could enjoy the park in the morning and afternoon and a beer at the campsite at the end of the afternoon.
Arizona
After one night at Bryce, the place was Page near the Horseshoe Bend en Antelope Canyon, the next destination. Also here we only stayed one night and that was also sufficient.
It was then a three-hour drive to the special environment of Monument Valley. On arrival we visited the visitor center and the day after we drove around the area. We stayed there for two nights at a campsite.
Also read: Route 66 | The ultimate roadtrip through America!
After another four hours of driving we reached the last destination, Grand Canyon National Park. We stayed at a campsite in the park called Mather Campground and enjoyed our last day together with a helicopter ride (!) and a walk.
My parents went back to Las Vegas to come back from here The Netherlands and we stayed in Grand Canyon National Park for a while to continue our way a few days later…
Our special experiences
Grand Canyon Helicopter Flight
My father once told me and my brother that it is his wish to take a helicopter flight over the Grand Canyon. He doesn't remember or is humble, but my brother and I won't be mistaken.
This trip was of course the perfect opportunity to get him in that helicopter and on his birthday, just before departure, he was given this as a gift. He wanted to share this experience with us and we had to come along! Which of course we didn't mind. Well, my mother a little bit then…
My mom could have just slept the night before the flight, because it was anything but scary. It was a comfortable flight with a great view! The feeling when you cross the edge is indescribable. Even from the air it is impossible to comprehend how big the Grand Canyon really is.
Also read: Helicopter Tour Grand Canyon | The ultimate bucket list experience
Bear spectacle in Sequoia
The best things happen unexpectedly. As we walked around to admire the large Sequoia trees, we saw a black bear in the distance. She came closer and closer and then we saw that a little one was walking behind.
A park ranger tried to scare them off, but it didn't seem to work. Mama Bear headed straight for her target. She climbed high into a tree, began to shake the tree and break off branches. It took us a while to realize what she was actually up to. There was a beehive in the tree!
On a warm afternoon, after my parents had taken some rest and we had done some work in a library, we went for a swim. We had planned in advance to do that at the campsite in the adjacent lake. However, the environment was so dry that the lake had almost completely evaporated.
We went to a nearby recreation area called Slick Rock Recreation (Location here) near Three rivers. We weren't very excited as from the road it looked like the water was low, so we weren't sure if swimming would come of it.
Once there and by the water, our impression quickly changed. What a beautiful place this is! The area was beautifully green, the water was a pleasant temperature and the sand seemed to have gold, it glittered so much. We really enjoyed it and regretted not going there sooner.
Our less fun experiences
Adventure diversion
Weather conditions in the national parks can be extreme. Still, we didn't count on that when we drove to Death Valley (and that's stupid!). We assumed that Google Maps would indicate something if something was wrong. Not so…
We had already completed six hours of driving and a short rest (during which we concluded we only had an hour and a half to drive), when we came to an intersection where the road was signposted to be closed due to flash flooding.
Because we had no internet connection and had to research what our options were, we drove an hour back to the last place we came across. Here too there was still no coverage, but Chris luckily found an open WiFi network from the local library. Our options were limited. Detour via the regular roads (which would take at least 5 hours) or drive over wildrose road, an unpaved mountain pass.
We didn't know what condition the Wildrose road would be in, especially after previous flash floods. The advantage, however, was that after about an hour and a half we would come across a campsite on the mountain pass. on Death Valley National Park official website stated that our road should be passable for vehicles no longer than 25 feet.
So we went for the unpaved mountain pass and would stop at the campsite. After this long drive, it was not wise to continue. The campsite was free and actually very nice, just in the last ridge before Death Valley. Although the driving had made us tired, we enjoyed what it brought us.
Tip: Always check before visiting a national park the National Park Service app or website. It displays current information about the national parks. That way you won't be faced with surprises.
What is also handy is that you can download the information about a national park in advance so that you can also view it when you are offline.
Broken in Las Vegas
This title makes you suspect that we have suffered a serious hangover, for which Las Vegas is intended, but unfortunately that was not the case…
Las Vegas was the next destination after Death Valley. In Death Valley we needed a day to recover after our long drive, at the pool. We therefore decided that if we were to drive away from Death Valley, we would visit some more sights.
That was great, but with this (and driving) we had wasted our energy for our evening in Las Vegas. Tired we strolled around the city and that didn't make it any more fun. How annoying that all those casinos and shopping centers are connected to each other and you can't seem to get out! We probably could have enjoyed it more if our energy hadn't already run out...
On top of that, we had to park our motorhome at a distance from the hotel, in a parking lot near a metro station where addicts hung out. I couldn't sleep at night because I was convinced that we would return to a broken-in camper with all the consequences that entailed… Thank God that was not the case!
Practical issues
Although my parents used a travel agency to arrange the flights and the motorhome rental, there were many other things to arrange. Chris and I felt like real tour guides. I made the plan in advance and arranged all kinds of practical matters with my parents. When they were there, we were able to tell them extensively about the national parks, our experiences and nature.
Also read: Skyscanner | How to save (a lot of) money on flights
ESTA (visa) application
For a vacation of less than 90 days in the United States, you will need to apply for an ESTA. This means that you can travel around visa-free during that period. My parents had to arrange that in advance too…
You can apply for the ESTA online here. The entire procedure is digital and you will also receive your ESTA digitally (by e-mail) when it has been approved. Print this out and take it with you when you fly to America. An application costs 21 USD per person.
Money matters
In the United States, it is virtually impossible to live without credit to travel around. Although my parents had taken one with them on a trip (the one from the ANWB), it was not always without problems. The reason for this is still unknown to us. So always make sure you cash have on hand!
They had their debit card (an ordinary debit card as we know it in the Netherlands) also with them and indicated to the bank that they would go abroad. This is necessary so that your debit card also works abroad. However, a debit card is unfortunately not always accepted by the payment terminals. You can still try it at a store, but it will almost certainly not work at a gas station.
Fortunately, when it was not possible to pay with the ANWB credit card or the Dutch debit card, Chris was still able to pay with his Bunq Travelcard. Strangely enough, this Pre-paid credit card really works everywhere, that is our experience after 9 months of traveling in the US.
Tip:: You can use the Bunq prepaid Travel card / Credit card here order in 5 minutes without a credit check. You can read more information about this card in the article about credit cards for long journeys.
Camper rental
Do you not need a travel agency or do you want to save costs and arrange the motorhome rental yourself? Then we recommend the website of Worldwidecampers.com because you can compare almost all providers in both America and Canada, from large to small. All major motorhome rental companies in America are connected there, including Cruise America.
Tip: if there are two or three of you (or with 2 adults and 2 children) rent a camper under 20 feet. It still fits in a normal parking space and you can easily maneuver.
Are you not a big camper or do you just want something that is quick and easy to drive? You can via Worldwidecampers.com also compare the different 'budget' camper providers, from large station wagons with a bed in it to small and medium-sized camper vans. We used this website 6 years ago to rent a cool Escape Campervan.
Type 2: wherever you end up collecting your motorhome, take pictures! Never drive away before photographing both the inside and outside of the rental RV from every angle. Do you see scratches, dents or other damage? Then take close-up photos of it.
We understand very well that you prefer to sign the papers quickly and want to start your tour immediately, but take the time to do this. If there is a claim for damage afterwards, you will have evidence (photos with time + date) to defend against the claim. Better safe than sorry!
Pass National Parks
At all national parks they charge an entrance fee and that is around 35 USD each time you enter a park. That is not per person, but per car with occupants. Luckily the . exists America is beautiful beware for tourists! It costs USD 80 and is valid for one year from the month you purchase it. After visiting three parks (or driving in three times) you have already saved money.
You can purchase the pass at any park upon arrival. If you want to be well prepared, it is also possible to only to purchase online and receive it at home prior to your trip. You will still pay the shipping costs extra.
SIM card
A SIM card with internet is almost necessary in this day and age. You can not only keep in touch with the home front, but also view the weather forecast, navigate, stay informed of possible road closures, arrange banking and more…
With USA sim we arranged a sim card for my parents and that was very easy. They received a SIM card by post well before departure, which would be valid in the month of travel. The SIM card went into the phone and was activated upon arrival in the US. When the month expired, the SIM card was also disabled again.
They chose the bundle USA SIM Red about this 76 €. Because of this they had network of T-mobile, unlimited data, unlimited calls and texts in the US. So more than enough!
Navigate
There may have been a SIM card with internet, but that doesn't mean you have internet coverage everywhere. I therefore asked my parents in advance to download offline maps via Google Maps. Then you can also navigate without internet.
On your phone you choose in the Google Maps App for menu and then offline maps. Then select 'select your own map' and choose the area in which you are going to travel. Because the area of ​​our roadtrip is quite large, it was necessary to download several maps.
Book the campsites
When reserving or booking camping spots in the US, it is important to look closely at the rules and how big the spot is. Sometimes the place is big enough for your camper, but the place is only intended for tents.
With our two motorhomes, we were able to save costs on some campsites, because it is allowed to put two motorhomes in one place. Provided these together but do not exceed the maximum length. At some campsites the rule was that no more than two 'vehicles' were allowed in one place. That may not mean that two 'recreational vehicles (RV's)' were allowed on it, but then it is me English no so good ?.
Campsites in the National Parks
The campsites in the National Parks are affordable (between 15 and 25 USD) and very popular. you will really have to book in time, do you want to have a place during your trip.
I booked a camping spot for Yosemite six months before the trip and that was already the last available! For Grand Canyon National Park I checked the availability and managed to reserve two spots two months in advance. In all other parks there was no availability…
The campsites do not always have all the facilities. On the official website where you can find the campsites can book, you have to look closely to discover which facilities are available. It is possible that if the facilities are not available on the campsite, they can be found elsewhere in the park.
State Campsites
State-run campgrounds are also inexpensive. About USD 20 per night, if you don't need hook-ups. You can also find this on the official website of the US government. They often have toilet blocks and showers, but these (at least in California) were mostly poorly maintained…
Private campsites
Of course you can also go to the private campsites and of course these are easy to find around the national parks. These are very pricey, between 50 and 70 USD per night. These are often in good condition with many facilities and you can expect that, I hear you think. Unfortunately, we have also seen differently…
wild camping
Due to my parents' short travel time, we didn't want to leave anything to chance and planned everything in advance. Wild camping cannot be planned sufficiently in advance. For example, we didn't know yet what my parents' rental camper could handle and whether places would be easily accessible. The free wild camping spots are often a bit off the paved road.
Close to some places, we kind of regretted that. There are plenty of wild camping options around Page and in Utah near Monument Valley. on iOverlander there are really many beautiful places to be found.
Uber and Elevator
A few more useful apps to have on your phone while traveling are Uber en Lift. In the Netherlands it is prohibited and you will not be able to order a taxi via these apps, but in the US it is possible.
My parents took advantage of this on arrival and departure. On arrival to get to the hotel from the airport and to the motorhome rental company the next day. On departure, they used Uber to get to the hotel from the RV rental and the next day, from the hotel to the airport.
The advantage of these apps is that you immediately see what a ride will cost you and when you can be picked up. It is also not necessary to pay with cash, everything goes through the credit card. After you have arrived at your destination you can leave a review for the driver and possibly give a tip.
Groceries and refueling
Avoid shopping in or near a national park. They ask for the top prize there. Literal! If you're curious how extreme this goes, we took some photos of common products in the Grand Canyon Village supermarket. 14 dollars for 18 eggs, 10 dollars for a port of pickles and 10 dollars for a jar of peanut butter. And that is excluding VAT…
We did not only encounter these kinds of prizes in National Parks, but also beyond. We saw this a lot, especially in Colorado or in other, more remote areas.
In Death Valley you have to watch out for extremely expensive fuel. It is wise to go that way with a full tank, otherwise you will pay double. In the summer of 2022, it was over USD 9 per gallon (EUR 2,40 per liter) for gasoline and more than USD 10 (EUR 2,70 per liter) for diesel.
Conclusion
I keep saying that The Highlights of the West cannot be described or included in pictures or words. Into the rock walls Yosemite are towering (2,5 times the Empire State Building) and the pit of the Grand Canyon very deep and 446 km long. A monument in Monument Valley can be 300m high and even then you can't experience it without having been there. You must see these places with your own eyes!
It was another great tour and an extra one because my parents were there. It was heartwarming to see how my parents enjoyed and dreams have come true. We mapped out a travel route together and created special memories for the rest of our lives.
This blog is of course written to help travelers when considering a similar road trip/round trip and to tell them about our experiences during the Highlights of the West. But, besides and above all, this blog is written for my dear parents! ❤️
---
Plan your vacation to America here
---