Mount Taranaki (Location here) is a volcano inside New Zealand which is called a mountain and has already had five names in the past. Popularly, this volcano still has two names, viz Mount Taranaki en Mount Egmont. The latter name is no longer its official name since January 2020, but now the mountain only has the Maori name Taranaki.
In addition to these names, he also has Pukehaupapa en Pukeonaki called. The volcano is in the middle of Egmont National Park And by the middle I mean literally the middle. If you look up this national park, you will see it right away. The volcano is a circle and around it you will find exactly a round forest, with a little bit of extra forest here and there. You can go on a lot of walks in this area and I will take you there in this blog. If you want to hike on the Mount Taranaki volcano, read on!
Plan your holiday to New Zealand here
Practical Information
How do you get there?
Mount Taranaki is therefore located in Egmont National Park and this is very close to the place New Plymouth (Location here). You can already see it around you when you are almost there, because many companies have the name Taranaki in their company name. From New Plymouth, depending on your exact location and your starting point around Taranaki, it is about a 30 minute drive to a parking lot. Many walks have different starting points, so check well in advance which walk you want to do before you drive there.
So there are many different walks that you can do. Here is a summary of a number of possible walks:
Nature Walk (Loop) – 15 minutes
Dawson Falls Power Station Track - 20 minutes
Ngatoro Loop Track – 1 hour
Tahurangi Translater Tower - 1 hour and 30 minutes
Veronica Loop Track - 2 hours
Mangorei Track – 2,5 hours one way
Curtis Falls Track – 2 to 3 hours
Dover Route – 3,5 hours one way
Dawson Falls – Stratford Plateau tracks – 3,5 to 4 hours
Lake Dive tracks – 7 to 8 hours
Mount Taranaki Summit Climb – 8 to 10 hours
Pouakai Circuit – 2 to 3 days
Around the Mountain circuit – 4 to 5 days
What does it cost?
Egmont National Park, like many other parks in New Zealand, can be visited for free. However, you have to take into account that if you choose a different end as starting point, you will have to take a taxi. At a crossing, as it is called in New Zealand, it is quite normal to book the shuttle in advance. Usually you take this shuttle to your starting point and walk back to your own transport. The shuttle will pick you up at your parking lot and take you to the other side of your walking route. Furthermore, there are no entrance fees for the walks. We have done two walks in Egmont National Park, namely Mangorey Track and the Mount Taranaki Summit Climb, which I will explain below.
Mangorey Track
Travel Route
First we took a walk to Lake Mangamahoe, also called Reflective Tarn on the internet (location here). In principle, you can take a very nice picture here of Mount Taranaki with a reflection of the mountain in the water. Unfortunately the wind was too strong for us and there was no reflection in the water.
---
I can tell you that it was still great. The mountain is often surrounded by a lot of clouds, but we had seen the mountain completely without clouds from the viewpoint. This walk is also part of the Pouakai Crossing and Circuit, but we walked from the parking lot (location here) to the water with the possible reflection and back the same way.
The walk itself had all stairs. Almost all steps were well maintained. The tiring feeling was mainly because the steps were sometimes higher or lower and sometimes there was a piece of two meters in between that was flat. In between you already get views over New Plymouth and the national park and these are really beautiful.
Pouakai Hut
Once you come across a cabin called Pouakai Hut (Location here), then you're almost there. From here you first have to go up a bit extra and then you descend to Lake Mangamahoe.
We had planned it so that we were at the lake around lunchtime, so we could enjoy the view and have something to eat. Don't want to go in the middle of the day? Then we can highly recommend going during sunrise. We have seen on another day that this can give a very beautiful view of Mount Taranaki.
We did the walk up in 2 hours and down were a bit faster, in just over 1,5 hours we were down.
If you don't take a heavy camera with you, you can also make the way back a bit faster by running a bit. We saw several people doing this and could certainly do this as a sports activity if we lived here, for example.
Mount Taranaki Summit Climb
Our other hike in Egmont National Park was the Mount Taranaki Summit Climb. It became clear during the hike that it was called climb, because we did a lot of real climbing. What a special, incredibly tough, but very cool hike this was!
---
First of all I will say right away that you should not be afraid of heights for this climb and you should certainly be physically fit. This climb is completed on average between 8 and 10 hours, but I can also imagine that there are people who take a little longer. It took us 9 hours and 45 minutes, including all stops. We did take a 45 minute break at the top and we saw few people doing that.
Travel Route
Back to the start… The start of this hike has arrived North Egmont Visitor Centre (Location here). If, like us, you sleep in a campervan during your trip in New Zealand, you can spend the night for free at the designated places at this Visitor Center. You would like that, because otherwise you have to drive a bit before the start of your hike. By spending the night here, you get up and start the hike. I recommend this anyway, because then you can also start with the sunrise even easier. It is a long hike, so an early start is recommended.
Also read: New Zealand | Tips for buying a car or campervan
Also read: New Zealand | Tips and 30 (!) places to camp for free
We left at 05.45 am and that was exactly at the same time as the sunrise. If you want to go even earlier, I would definitely do that. The first hour is an easy path up and you can easily cover it with a headlamp. In the end, we only needed our headlamp for a maximum of 30 minutes. Looking back, I found the first hour and a half really easy. When I walked back the same way at the end of the hike, I thought: 'was it really that steep at the start?' Maybe I was still sleeping a bit.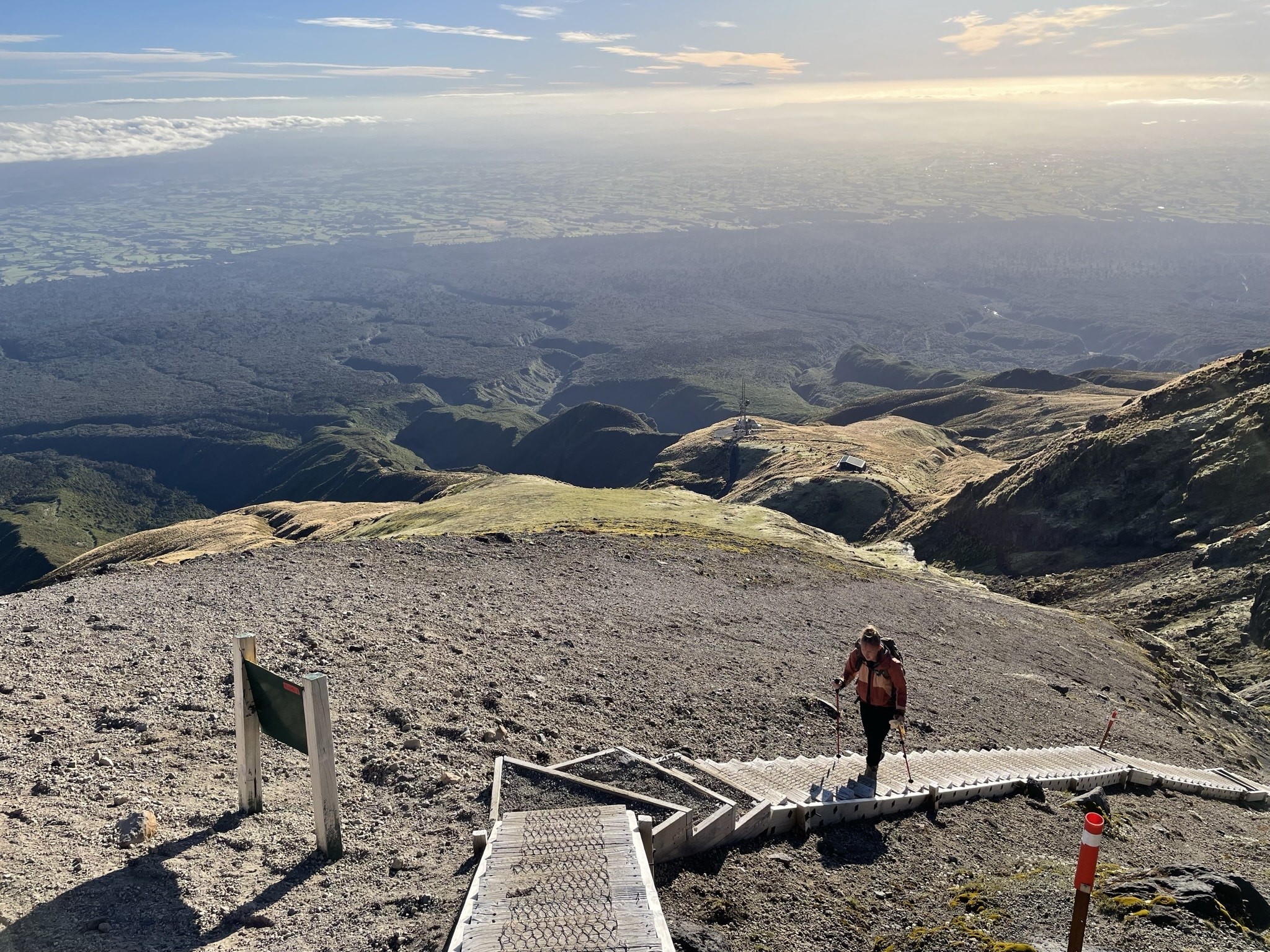 Tahurangi Lodge
After about 1,5 hours you will pass the Tahurangi Lodge. You can opt for a simple cabin, where you only book a bed and a mattress. Incidentally, this is in many huts in New Zealand. You often have to bring the rest yourself. If you want to start the rest of the hike from there, you can. I wouldn't do it myself for that 1,5 hour difference. The hut is mainly for hikers who walk the circuit around the mountain as a multi-day hike.
After you have been to the hut, the climbing starts a bit. You go a little bit over some rocks and then some stairs come up. There's going to be a moment when you curse these stairs. Nevertheless, there will be a moment later when you wish for stairs. Then the constructed path is gone and there are only a few posts that give you a direction to the top. This path consists mainly of gravel and is quite steep. The very last part is over large rocks and here too you mainly follow the orange poles towards the top.
Possible snow and the summit
Once over the largest rocks, you come to a flat area. With us there was only some snow on that plain, but you can find snow earlier. It really depends on the weather and temperature during the period. We made this hike at the end of January.
After this flat part there is one last piece to climb. It was doubtful whether that was still worth it, because the view already looked so cool. Still, I can recommend that you go upstairs. The views from there and the real top are fantastic.
The way back
Unfortunately, after the enormous enjoyment at the top, the way back awaits you. Normally you go a bit faster during a way back, but on the rocky and gravel part that is quite disappointing. Although I also saw people running by, I didn't feel comfortable with that at all. Especially the gravel was actually pure misery. You actually slid down one foot at a time.
Once you get to those stairs again, and that takes a long time, you will be very happy with those stairs. After the stairs it is mainly flat down and I found out that this path was much steeper than I could remember from the morning. Once back at the Visitor Center you quickly take off your shoes, because it was a long hike.
Recommended or not
Now of course you ask yourself if I thought this hike was worth it? Yes, more than 100 percent. It was quite a challenge and at times I certainly doubted whether I should continue. It was that spicy. Still, I can recommend that you tackle this hike with your hands full, but only if you are in good shape.
The view at the top is so different from other hikes. You can see the fantastic round Egmont National Park very well and the fact that there are no mountains around it means that you can see very far. We could even with the clear weather on our day Mount Tongariro see.
Also read: Travel information New Zealand | Everything you want to know
Plan your holiday to New Zealand here