In this worldly In this article we are going to talk about security in Europe. Which are the safest and most dangerous countries in Europe in 2020? This article contains both a top 10 with safe and dangerous countries in Europe† The rankings in this article were created through multiple sources and security analyzes published at the end of 2020. visionofhumanity.org is one of those sources. They annually publish large-scale, global safety analyzes based on the Global Peace Index (GPI). The GPI is an annual ranking of countries prepared by the Institute for Economics and Peace (ELM). IEP assesses security in the countries based on various criteria, including general security, (armed) conflict, crime rates and attacks.
The lower the number of points, the better the country or region ranks. The full PDF report has no less than 107 pages and is here download.
Also read: Which are the safest and most dangerous countries in Central America?
Also read: Which are the safest and most dangerous countries in Europe?
Also read: Which are the safest and most dangerous countries in Africa?
Europe most peaceful
Also read: Worldly | 7 continents or continents – Everything you need to know

To begin: Europe is and will remain the most peaceful region in the world this year† However, a slight deterioration in peacefulness has been noted in the GPI of 2020. Sixteen countries registered improvements in peacefulness, 19 countries registered deteriorations. European countries account for 17 of the top 25 countries in the global GPI of 2020, with Iceland as the country with the best score in both Europe and Worldwide. Turkey is the only European country that is in the top 25 most dangerous countries in the world. Globally, there are 81 risers, countries that are doing better, and 80 losers, countries that are doing worse.
Political and economic unrest in Europe
Despite Europe being the most peaceful region in the world, Europe has experienced political and economic turmoil in the past year. Poland has witnessed public mass rallies and protests against the government's controversial law allowing government interference in the courts, while in Romania protesters took to the streets for months to demonstrate against corruption. Mass protests also broke out in HungaryThere, the government introduced a new labor market law, referred to by protesters as "The Slave Act."
The 'yellow vest' protests in France also reached a peak, these protests were not always peaceful and some people even died.
COVID-19 pandemic
More recently, the COVID-19 pandemic the Schengen Agreement temporarily inoperative. European countries hint un-European chaos, especially the VK, Italy en Spain† The full extent of the economic and political impact of the pandemic remains to be seen, but relations between countries in Europe are tense to say the least, partly due to the disagreement and unclear European approach to the virus.
Top 10 safest countries in Europe
1. Iceland | GPI score: 1.078
The scores of Iceland remain strong. Iceland is and remains for the 12th year in a row (since 2008) the safest country in Europe and even in the world. At the same time, Iceland has been one of the healthiest countries financially since the economic crisis of 2008 and the country has seen a significant increase in the number of tourists visiting the country year on year.
Also read: Top 10 Volcanoes in Iceland | Otherworldly, impressive and active
juicy detail: Iceland it is only country in the world which actually punished the criminal practices before and during the economic crisis in 2008. Several top executives in the banking world have been convicted and put behind bars for a long time. Subsequently, laws were also passed that prevent only men running the 'boardrooms' in both business and politics. By law, a minimum of 40% of every senior position in the country must be held by women.
According to many, this law is the founder of Iceland's success over the past 12 years. Documentary producer Michael Moore visited Iceland in 2016 and spoke with some high-ranking women about the crisis and the positive changes the country has gone through. The whole 15-minute piece 'Women of Iceland' is definitely worth watching.
2. Portugal | GPI score 1.247
Portugal is a country that is rising at an unprecedented rate in the ranking of the safest countries in the world. In 2000, the Portuguese government took a drastic decision† All forms of drug use were decriminalized. 20 years later, the results are positive across the board. The number of addicts has decreased enormously, as has the associated crime. Anyone who is addicted or uses drugs and who breaks the law is obliged to register in a clinic. With this method, the country has managed to get the major drug problems under control in a very short time. A lot of money has gone into actually helping people, rather than simply locking them up.
Also read: Must Sees in Portugal | Beautiful beaches, cities and culture
Overall, this drastic decision has triggered a wave of positive developments in the country. Portugal has gone from one of the most unsafe countries in just 20 years to one of the safest countries in Europe. A great achievement that also saved them billions. The costs of guaranteeing safety have fallen drastically.
3. Austria | GPI Score 1.275
Austria has been a very stable country for years. The country has hovered in the top 5 safest countries in Europe for more than a decade. There is hardly any crime. The green, beautiful nature seems to have a calming effect on its inhabitants and travelers always feel at ease here, even in the larger cities.
Also read: Top 3 | The coolest winter sports destinations in Europe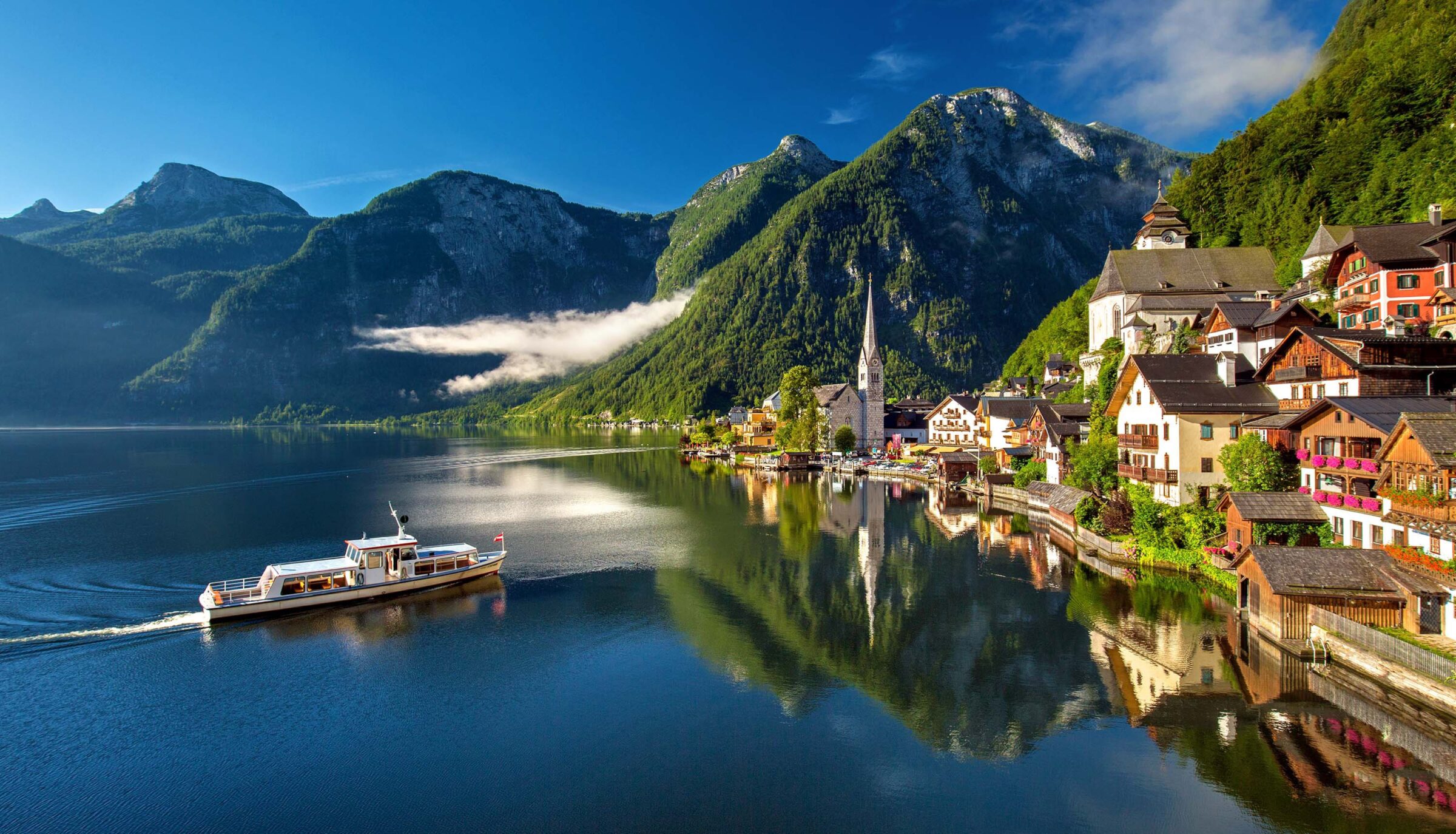 Austria is not only a wonderful country to live in, it is also a carefree country for travelers with a lot of beautiful things to see.
4. Denmark| GPI Score 1.283
Denmark has always been one of the safest and also 'undercover' countries in Europe and certainly on the world stage it is economically and authoritarianly small. Apart from a few football successes, the country has always remained a bit to itself. Denmark does not interfere with others and vice versa. In any case, this is bearing fruit for the inhabitants. Denmark will once again be one of the safest countries in Europe and rightly so in 2020.
Also read: Round trip Scandinavia | An unforgettable journey from fjord to smørrebrød
Life in Denmark is generally quiet, the small country excels in safety on the streets and in general women there also dare to walk alone late at night. Denmark is relaxed with good facilities, both for living and traveling.
5. Czech Republic | GPI Score 1.337
An unexpected newcomer in the top 5 safe countries in Europe is Czech Republic† The country was not even in the top 12 in the world just 20 years ago – in 2020 the country is 6th in the world ranking and 5th in Europe when it comes to safety. According to experts, the main reason is the rapidly growing economic prosperity.
Also read: Eastern Europe | The 'Eastern Bloc' is so much hipper than you think!
Accession to the EU and left-wing governments that have mainly focused on security and social safety nets are at the root of this growth. More freedoms and open borders with Europe have given the people a taste of the new Czech Republic. Crime has fallen, the conflict with Slovakia seems to be a thing of the past and the country has also been booming in recent years in terms of tourism.
6. Switzerland | GPI Score 1.366
Switzerland is doing just fine, just like in previous years. In terms of safety, the country is in 6th place in Europe and in the world ranking it is in 10th place. Switzerland has a rugged landscape, a few large cities and, unlike the Czech Republic, interferes as little as possible with Europe or the rest of the world. . However, Switzerland has been having a hard time in recent years, with increasing pressure from outside to provide more insight into the country's well-known hidden banking affairs.
Also read: Bungee jumping | 10 spots to fall down at
According to researchers, there is much more large-scale crime in the country than you might suspect. However, this mainly concerns financial crime behind closed doors that you as a resident or tourist hardly notice. Although Switzerland has fallen 2 places in the past year, it can still rightly call itself one of the safest countries in both Europe and the world.
7. Slovenia | GPI Score 1.369
It is that in Slovenia the capital Ljubljana scores relatively poorly, which means that the national average has dropped somewhat. Without the capital, the country would certainly have ended up in the top 5 safest countries in Europe. Slovenia is very similar in nature and inhabitants to Austria.
The mountains are perhaps slightly less high, the inhabitants are generally fond of nature and are usually found outside a lot. Tourism in Slovenia has grown enormously, especially in recent decades, and economic prosperity brings prosperity. In the last 10 years Slovenia has risen by no less than 5 places in the ranking.
8. Ireland | GPI score 1.375
Ireland went through rough times in the 70s, 80s and 90s. There were attacks, the IRA caused death and destruction and there were severe economic problems. You see little of these problems in 2020. Over the past two decades, Ireland seems to be getting better and better. Dublin is an immensely popular city ​​trip city ​​and tourism in the country continues to grow.
The Irish are generally a self-contained nation and do everything exactly differently from England. They may be neighboring countries, but they have very little in common in terms of culture, safety and tourism. Crime rates in Ireland continue to break records in recent years, in a positive sense that is.
9. Finland | GPI score 1.404
Despite relatively high unemployment rates in Finland (7,5%), the country is still doing very well. Slowly but surely, the country is increasingly distancing itself from Russia, which used to be mainly in charge here. Finland is a huge country with only 5,5 million inhabitants. There is hardly any crime, probably because there are hardly any large cities outside Helsinki.
Finland has also welcomed more and more tourists in recent years, especially in Finnish Lapland. The population is very receptive, hospitable and helpful. The country is also perfect for spotting the northern Lights and as a tourist you can generally stay here late and alone on the street.
10. Sweden | GPI score 1.479
Sweden, the country of which Dutch people usually think it is the safest country in Europe. Yes, Sweden is still a very safe country for residents and world travelers alike and is therefore still just in the top 10.
However, Sweden has seen better days. In 2009, Sweden was still in 5th place worldwide, in 2020 Sweden has to make do with 10th place in Europe and 14th place in the world ranking. The country has declined in recent years. The main cause is the increase in extreme right-wing groups that do not like Europe, foreigners and everything that is different from what they are traditionally used to. However, Sweden can still call itself one of the safest countries in Europe.
And what about the Netherlands?
By now you must be wondering where The Netherlands position itself in terms of security in Europe. After all, we are used to our sober country and it feels super safe here. However, the statistics show a different picture. The Netherlands dropped no less than 5 places this year and is now in 21st place in the world with a GPI score of 1.528† At the European level we have also dropped one place and are currently in 14th place. We have to Norway (#13, GPI score 1.496), Belgium (#12, GPI score 1.496) and Germany (#11, GPI score 1.494) also pass us by. It should be clear that it is all very close together. We are talking about 2 to 3 decimal places here!
The cause of the sinking of the Netherlands in recent years is mainly due to organized crime. Drug trafficking and settlements seem to be the rule rather than the exception in our country in recent years. The number of petty thefts and street robberies has also risen slightly in recent years, which is not good for the crime figures.
Top 10 most dangerous countries in Europe
1. Turkey | GPI score 2.959
Turkey remains the most dangerous country in Europe this year, it also had a significant deterioration in GPI this year. The country fell further in the GPI world ranking to 150th place (!) between Venezuela (#149) and North Korea (#151). The refugee crisis in Europe continued through 2019 and 2020, leading to mounting tensions with Greecebecause the Turkish authorities refused to stop refugees.
In addition, Turkish President Recep Tayyip Erdogan continues to suppress domestic politics of dissent, leading to a worsening of political instability and increased political terror. Turkey also saw an 8,3 percent increase in the incarceration rate, from 318 prisoners per 100.000 people to 344. The number of Dutch tourists traveling to Turkey has fallen sharply in recent years. The decline was mainly started after the series of bombings in 2016 and 2017, which resulted in many deaths. The political instability and warmongering of the current president do not help, the end of Turkey's problems seems far from in sight.
2. Kosovo | GPI score 2.07
Kosovo never really recovered after the break-up of Yugoslavia. The country is struggling economically and the hatred for neighboring Serbia is still felt everywhere. The war has left many mines and weapons in the country, armed conflicts still occur regularly.
Although Kosovo scores much better than Turkey, it is still a dangerous country (by European standards).
3. Bosnia and Herzegovina | GPI score 2.04
Like Kosovo, Bosnia and Herzegovina is struggling economically. Many people fled during and after the war for a better life. Unemployment is high, which can be seen in the many ghost villages in the country. There is a lot of petty crime in the country and although it also has good parts (strangely enough, especially the larger cities), the travel advice is generally still negative.
In addition, just taking a walk in the nature of Bosnia is still a risk. There are still countless areas full of landmines that have not been cleared. As a tourist, that is not pleasant to say the least.
4.Montenegro | GPI score 1.944
Montenegro is generally a suitable country to travel. In recent years, however, it has experienced political unrest, riots and even a few attacks. The country's ties to Russia are worrying, but despite everything, Montenegro has seen an increase in the number of tourists visiting the country in recent years.
The beautiful beaches and low prices have proved irresistible to tourists. Fortunately, the coastal areas and especially the city of Kotor are generally safe, but as world travelers you run more risk in the country than you would actually like. It really is a country with two faces in that respect.
5. France | GPI score 1.93
Are you surprised that France is here? We actually don't. France has had a hard time in recent years. There is a lot of inequality between ethnic groups, there are many violent crimes and the country has suffered several attacks in recent years.
Some of the attacks in France in recent years are:
2015 – Charlie Hebdo, 12 dead
2015 – Paris, 5 dead
2015 – Paris, 130 dead
2016 – Paris, 2 dead (bomb belt didn't go off)
2016 – Nice, 84 dead
2016 – Saint-Etienne-du-Rouvray, 3 dead
2017 – Paris, 0 dead (bomb in apartment defused)
2018 – Trèbes, 5 dead
2018 – Paris, 2 dead
2019 – Lyon, 13 injured in bomb attack, no deaths.
2020 – Romans-sur-Isère, 2 dead
2020 – Charlie Hebdo, multiple injured
The huge and protracted 'yellow vest' protests brought politicians to their knees and eventually the military had to step in to restore peace. France is also falling further this year and is currently 66th in the world ranking and 31st (out of 36) in the European ranking of safest countries. So not good.
The only positive thing we can say about this is that, fortunately, southern and western France have not noticed much of this unrest until now. Those who stay away from the big cities will hardly notice it. Hundreds of thousands of Dutch people still go on holiday in France every year.
6. Cyprus | GPI score 1.92
Cyprus has had a hard time in recent years. It bears the brunt of the ongoing unrest between Turkey and Greece, both of which claim the entire island. Add to that a huge stream of refugees preparing the island with boats, and the recipe for problems is complete.
With only 1,2 million inhabitants, it is simply not economically and logistically able to accommodate the large influx of refugees. As a result, the island has been plagued in recent years by petty crime by, among others, refugees who are trying to build a livelihood. Tourists who stay at luxury resorts usually still have a nice holiday, but outside the resorts the problems are quickly felt and visible.
7. North Macedonia | GPI score 1.9
North Macedonia has safe parts and does everything it can to protect tourism in the country as best as possible. Still, there are plenty of off the beaten track problems in the country.
There have been minor to medium-sized violent crimes between Macedonians and Albanians for years, and the border areas are particularly high-risk. Although it has scored better in recent years, North Macedonia is this year 62nd in the world ranking and 30th in Europe.
8. Greece | GPI score 1.877
In recent years, Greece has been recovering from a severe economic crisis that seemed to have no end. Unemployment in the country is sky-high, which does not benefit petty crime, theft and muggings. This remains a persistent problem, especially in the large cities, and extra caution is required as a tourist.
The many major protests against the government, especially in the aftermath of the economic crisis, often turn into violence. Nevertheless, despite the lingering conflict with Turkey, Greece is slowly returning to calm. In the last three years, the number of major protests has decreased by 50%, tourists are returning to the country and the economy seems to be picking up again.
9. Albania | GPI score 1.872
Albania has also been doing good business in recent years. Despite the unrest in the border areas, Albania has been welcoming more and more tourists in recent years and the population is prospering economically.
Yet it is still one of the most unsafe countries in Europe, mainly due to petty crime and robberies on the street. Fortunately, the coastal areas are generally still safe for tourists.
10. Serbia | GPI score 1.846
Serbia should no longer be taken as an unsafe country. According to the latest surveys (source at the top of the article), Serbia belongs to the 'green zone' of Europe for the first time in years. It was close to the fact that the United Kingdom had been here.
Serbia is generally a poor country and is still visibly affected by the war of the 90s. Yet the population seems increasingly satisfied, crime rates have been declining for years and security is steadily increasing.
Security in Europe – the middle bracket
Europe knows in total 36 countries of which you have already seen the 10 safest and 10 dangerous countries above. That leaves a middle bracket of 16 countries. Germany falls just outside the top 10 safest countries in Europe, while the United Kingdom just outside the most dangerous countries in Europe. In the list below, you can see exactly what the middle bracket of the safest and most dangerous countries in Europe looks like.
Also read: Worldly | The Safest and Most Dangerous Countries in Africa
11 – Germany | GPI score 1.494
12 – Belgium | GPI score 1.496
13 – Norway| GPI score 1.496
14 – Netherlands| GPI score 1.528
15 – Romania| GPI score 1.541
16 – Hungary| GPI score 1.559
17 – Slovakia| GPI score 1.568
18 – Croatia| GPI score 1.615
19 – Bulgaria| GPI score 1.628
20 – Poland| GPI score 1.657
21 – Estonia| GPI score 1.68
22 – Italy| GPI score 1.69
23 – Latvia| GPI score 1.7
24 – Lithuania| GPI score 1.705
25 – Spain| GPI score 1.712
26 – United Kingdom| GPI score 1.77
Do you want to know exactly how the countries are doing on a global level? Then view the 2 overviews below.
Consulted sources:
Also read: Which are the safest and most dangerous countries in Central America?
Also read: Which are the safest and most dangerous countries in Europe?
Also read: Which are the safest and most dangerous countries in Africa?
Want to read more Worldly articles? Then take a look at our worldly page. Do you have a question, addition or do you see an error somewhere? Let us know in the comments!